TOURISM & HOSPITALITY
SUSTAINABLE TOURISM & HOSPITALITY ADVISORY SERVICES

TOURISM, HOSPITALITY, SPORTS & REAL ESTATE ADVISORY SERVICES

The Sustainable Tourism & Hospitality Services Unit consists of our travel & destination management provider, Horizon Ecotourism, our team building & corporate hospitality specialist, Elevation Teamwork, and our PE hospitality & sports advisory firm, Woodfield Management.
Combined, we are positioned to offer a wide range of strategic advisory services to assist a diverse group of clients. Our services include hospitality & sports-based real estate strategies, corporate hospitality & loyalty programs, fitness & wellness retreat design, tourism action plans & marketing strategies, sports academy integration strategies, tourism destination events & impact assessments, JV formations & partnerships, etc.

In partnership with our interdisciplinary education & learning unit, we design & develop experiential and collaborative education offering including team building exercises & executive coaching offerings, leadership development courses, workshops & seminars, etc. In addition, we work closely with our marketing & media teams to design CSR retreats/challenges, sports outings/pro-ams, CSR marketing/media tie-ins, etc.

Our Sustainable Tourism & Hospitality Teams have overseen special projects on behalf of wealth-management firms, corporate finance firms, multinational corporations, industry leading brands, boutique luxury travel operators, conservation & humanitarian initiatives, international non-profit organizations, associations, federations, private foundations, family offices, philanthropists, etc.
Please see the trailer for Part 1 of Expanding Horizons series and Wind of Hope tribute (a new series focused on ecotourism & wild-life conservation developed in partnership with our Tourism & Hospitality unit and our Marketing & Media unit) to gain more insight into our diverse range of capabilities, offerings and partners:

Travel, Hospitality, CSR, Conservation & Humanitarian partners include: Virgin Unite, Virgin Atlantic, Educating the Children, Lewa Wildlife Conservancy, SAM Elimu Program, Lewa Education Centre & Digital Literacy Program, Zoo Zurich, Jacobs Fndn., Google.org Impact Challenge, Panthera, Stop Ivory, Air Wilderness, Wilderness Trails, Educating The Children, Olmalaika Trust, Reteti Elephant Sanctuary, Beads for Education, Disney Conservation Fund, Amboseli Trust for Elephants, Africa Wildlife Foundation, Ol Pejeta Conservancy, AINA Children's Home, March To The Top, Community of Sant'egidio, H&M Fndn., Ethical Fashion Initiative, Pathways Policy Institute, Bayer, USAID, UNFPA, Mandela Washington Fellowship, Kenya Children's Homes, ADRA, DREAM, Red Cross, Waldfriede Hospital, Gynocare Women's & Fistula Hospital, Fistula Fndn., FIGO, MSF, Desert Flower Fndn., Wind of Hope in the Desert, etc.

HORIZON ECOTOURISM

Horizon Ecotourism is the travel advisory & destination management wing of COL Alliance, which was originally established to serve the Group's affiliates and partners by overseeing the planning, scheduling and logistics relating to fact-finding missions, monitoring & evaluation processes, media for development projects and social innovation initiatives.
ELEVATION TEAMWORK

Elevation Teamwork is our in-house team specialising in designing & organizing corporate retreats, sports outings & pro-ams, health & wellness retreats and team building exercises & leadership development challenges for clients (corporations, SMEs, private foundations, international NGOs and intergovermental organisations) wishing to experience unique or tailored corporate hospitality & loyalty programs that integrate private charter travel, luxury trains, eco-lodges, safaris, etc.
WOODFIELD MANAGEMENT

Woodfield Management is our PE hospitality & sports real estate advisory firm providing strategic advice and knowledge brokering on all aspects including: feasibility, planning, JV partnerships, SPE structuring, valuation, destination development, marketing strategies, tourism impact assessment, action plans, project management, asset management, transition strategies, etc.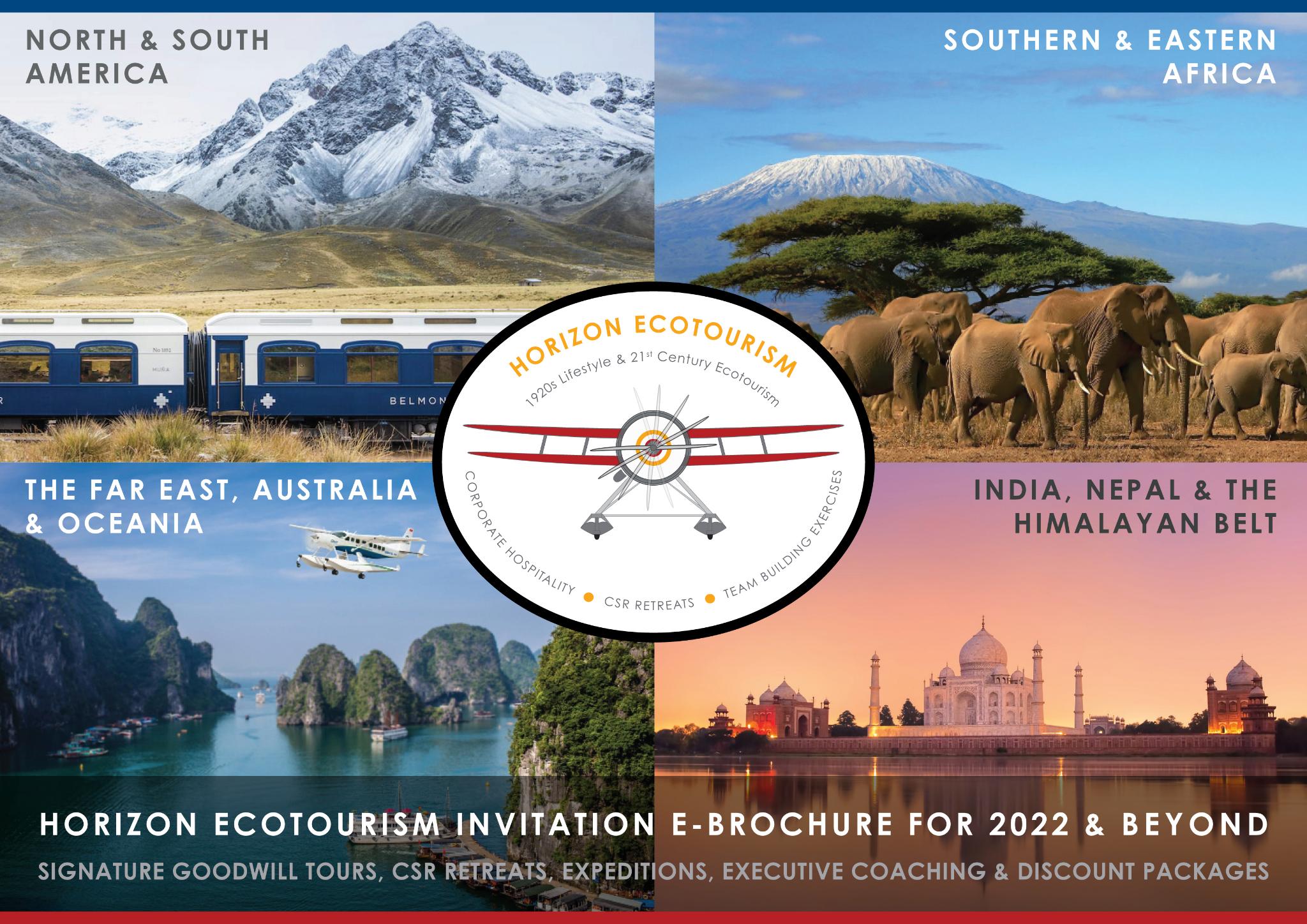 EXPERIENTIAL ECOTOURISM & CSR HOSPITALITY OFFERINGS:
Designed based on award-winning travel & history programmes in partnership with our Smithsonian & National Geographic Teams.